This page documents the story of the Secrets of Finnish Sauna Design,  an English edition of a book published in Finnish in 2019 (Hyvien löylyjen salaisuus).
The book is now available on all Amazon stores and Saunologia.
Click here to visit Amazon.com product page
On this page
Buy the book from Saunologia.fi for customers in Finland
Updates in chronological order
Form to subscribe for updates
Buy the hard cover edition from Saunologia
35€ per book, free shipping!
Saunologia offers the hard cover edition of the book for Finland based customers. No shipping outside continental Finland!
How to order?
Order using form below
Make payment
Receive a confirmation over email (1-3 days)
Receive the book over regular mail (2-4 days)
Wire transfer instructions:
Send the money to
FI97 3939 0053 1827 05
in the message field, cite "Sauna book" and your name
For MobilePay send money to the number 050 384 1508 or just click:
(MobilePay link for 35€ ).
Shipping is free, but returns are your expense.
Order form
*(vaaditaan) = required information
Updates - What's going?
14th June 2021 - Saunologia.fi starts selling the hard cover edition
A new exlusive hard cover print has just landed in Finland. The print will be later available on Amazon.co.uk, but Finnish customers can also order it direct from Saunologia.
30th April 2021 - it's alive!
The book is now available on all Amazon stores.
Click here to visit Amazon.com product page
You can find the book by its ISBN (1683150260) on every other store as well.
I hope you enjoy it and give a good review on Amazon 🙂
16th April 2021
It's all set! (or close).
The digital editions is now available for pre-order at Amazon.com .
You can sign up for the launch party at
https://www.culicidaepress.com/book-release-ama-registration/
This will be a Zoom event featuring the author and the publisher.
Date: Thursday, 29 April 2021
Time:
11:00 US Central Summer Time/
19:00 Finland Eastern European Summer Time
15th March 2021
The publication date of the book is set to 29th April 2021! The long wait will soon be over and the this page will be updated in April with a pre-order link and a launch party sign-up link.
I also published a kind of preview: Top Ten Finnish Sauna Myths Busted
Check out publisher's FB post and book page:
https://www.culicidaepress.com/liikkanen-secrets-of-finnish-sauna-design/
We're expecting that this full color book will span around 220 pages and cost some $40 without shipping.
21st October 2020
I have just signed a deal to publish the book next year! Read here for details: https://saunologia.fi/saunologin-seuraava-kirja-2021/
June 2020
I have finished writing the manuscript and working on a plan to get the book published.
3rd March 2020
I just published the final article of a series in Finnish Sauna Essentials online. This series is practically a long summary of the upcoming book. Please enjoy for free and share wide and far!
https://saunologia.fi/in-english/finnish-sauna-essentials-part-1/
Second,
In December I was happy to receive good news about a grant I had applied for writing the book. Now just today on third of March, I have initiated the work and started writing the manuscript! You can find the draft table of contents at the bottom of this email. Please comment if you think there's something essential missing!
It's a small step for a book, but I have high hopes to Finnish the raw manuscript by June. What happens after that is still a mystery.
I have applied for additional grants to finalize the manuscript with all its necessary steps. With bit of luck, that will succeed and close the financial gap between a raw manuscript and ready-to-print book.
I will keep you up to date how things proceed with emails before mid Summer! (please feel free to unsubscribe if you think this is bothering you)
Finally, If you want to somehow offer your assistance, for instance test reading some of the sections, please let me know
14th December 2019
Kickstarter project in late 2019 showed some international interest in the book but failed to raise adequate funds to make the book potential. While I'm eager to accept any philantrophic initiatives, I will in 2020 explore opportunities to fund the production with a dedicated grant.
To be realistic, the work on the book will unlikely commence in 2020 even if the plan succeeds. 2022 is more probable target.
---
If your question was not answered, please contact via email lassi@saunologia.fi, thanks!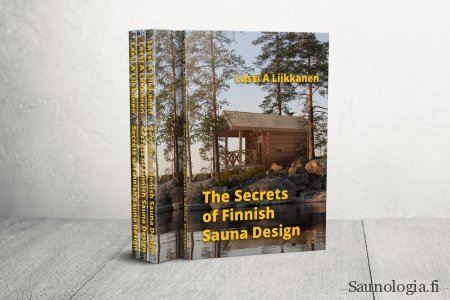 Follow updates
Please sign-up with this form to be informed by email about possible updates in the progress of this project! Your address will not be used for non-sauna related purposes or shared with third parties.
(the first field is for your email, in Finnish Sähköpostiosoite. The field below, Viesti is optional message )